Last week I attended the Window Coverings show that was held here in Atlanta. Since I am addicted to beautiful fabrics, and love designing window treatments, it was a treat to visit the many vendors there.
A few things caught my eye, and set my imagination into high gear.  Before I knew it, I had my whole house filled with window treatments.  And my clients' too! 
1.  Solar shades – Based on the number of vendors exhibiting this product,
I decided to take a closer look.  What I discovered is a shade that can be used for room darkening, sunfiltering, and privacy.  Because it's flat, it's out of sight when not in use.  But today's materials are a lot different than the plain white roller shades that a lot of us remember from our youth.  You remember, the ones that were pulled from the bottom and rarely went all the way up…… Today's fabric selections are numerous, with various colors and textures.  Looking great in traditional as well as urban settings, solar shades have come into their own.
2.  Remote Control – Yes, I know.  We've already seen enough of the remote control.  It's a permanent fixture in the hands of one person I know and love!  But let me tell you how excited he was when he moved into his new apartment in Singapore.  He was more impressed with the little gadget that raises and lowers his solar shades and opens and closes his draperies than he was with the view!  Remote controls are really more than a "guy toy".  Think of them as a way to bring total ease to your home.  One remote can be programmed to raise and lower shades in different parts of the room, while at the same time turn lights on and off.  I'm amazed and excited to try it out soon.  And girls….adding a remote control to your new window treatments might just sell your significant other on the purchase!!!!!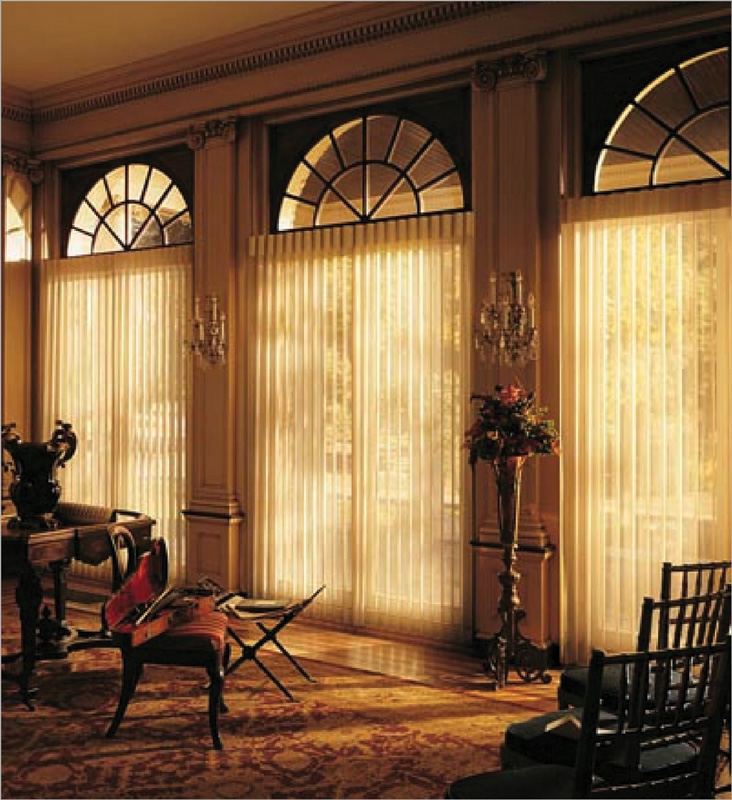 3.  European-styled retro lift paired with Hunter Douglas Allustra blinds look fabulous paired with wide tapes.  I was really intrigued when I first saw them in the showroom, and I'm looking forward to using it in 1920's bungalows, home offices, or homes on the lake.  This is a unique twist on a standard product that can be used in many environments.
So now you've seen them!  My 3 hot new favorites for windows.  What do you think about them, and what are your favorites?  I'd love to know.