Have you ever noticed that no matter how hard you try, your guests just seem to congregate in the kitchen?  Why is that?  What is it that draws everyone to this area of the home?  I know that no matter how much effort I take to move the drinks and appetizers to another room, everyone still ends up in the kitchen.  And then the food often goes uneaten!
Over the years kitchens have played different roles in our lives.  Today it is a completely different room than it was long ago.  This is true in both appearance and function.  Before the age of electricity and appliances, there was a hearth for cooking and maybe a table for preparing food and eating.  Mostly, family members gathered in another part of the house to avoid the fumes and clutter from food preparation.
 Now fast forward to today.  Technology has given us beautiful and efficient appliances.  Cabinets have evolved into furniture pieces with many storage options.  Yes, our cultural habits have definitely changed.   And the result is a kitchen that has become more attractive than ever.  It's become the heart of the home, whether large or small, well appointed or not.  We all have warm, cozy memories about our kitchen and our own personal reasons why it's the heart of our homes. Let's take a look at a few.
Family bonding time – When we share the tasks of preparing a meal, cooking it, and then cleaning up, we're not only sharing the task, we're establishing a bond.
A place where memories are made -Stories are told, announcements are made, laughter is shared, and tears are shed – in the kitchen.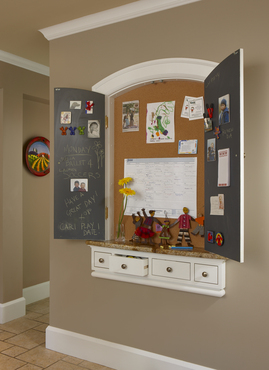 Message/communication center – Often the "stopping off point" for the rest of the house, the kitchen has become a place to leave messages, store keys and purses, dock a telephone, or plug in a laptop.
Entertaining – With larger kitchens that have more counter space, we often use the kitchen to set up drinks and appetizers.  This gives our guests a chance to be involved in the cooking process.  Or at the very least, keep us company while we're fixing the meal.
Homework center – Larger islands or kitchen tables have allowed the kitchen to be the age-old place for Mom to keep tabs on homework progress while cooking dinner
Craft center – Some of us really enjoy hanging out in our kitchen.  The lighting is better, the floors clean up easier, and it just seems to be the perfect place to spread out and practice our craft or introduce a "little one" to something fun and new.  Have you tried painting or coloring,  sewing or clay?  The possibilities are endless!
An office –Whether it's a lack of proper office space or just the need to be where the action is, more people are including desks in their kitchens again if they have the space.
Pet feeding area – Because we're all hanging out here, our pets seem to want to be there too.  Designing a cabinet or space just for your pet to eat or sleep will help keep the kitchen more organized.
News center – Now that we're spending so much time in the kitchen, we feel the need to be entertained at the same time.  Enter the all important television to keep us updated on the latest news – or "star" dancer.   But don't forget to turn it off during dinner!
These are only a few additions to the kitchen over the years that have moved it to the very heart of our homes.  Are you using any of them in your kitchen?  Have you designed a unique message center or pet feeding area?
I would love to hear from you – your kitchen memories, your kitchen stories, and new ways to create a kitchen that is central in our lives.  Sign up for my free in the box to the top right of this post!