You may have heard the term lately "boomerang seniors" to describe aging parents moving in with their adult children. While the term is poking fun at the previous generations of children who moved back in with mom and dad when times got tough, the research behind the movement is real. Caring.com reports floods of seniors moving into the homes of the younger generation as a perfect storm of conditions prevents them from making the move to retirement communities when their need for care increases.
We found the i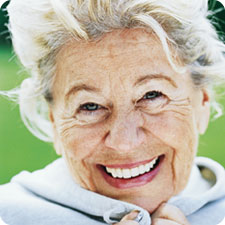 dea interesting as it sort of puts a new spin on Aging In Place. The idea still involves adapting spaces and lifestyles, and staying in place at home – just in a new place! Eight years ago, before the term Aging In Place was much heard of, friends in Alpharetta, Georgia decided this idea was right for them. Their mom, Jean, had been living alone in New York state, nearly 1,000 miles away from her nearest family member. Jean was an incredibly capable 82-year-old who had raised four children on her own, maintained a successful teaching career and passions for painting and tennis. Jean had had some medical problems but was by no means in need of constant care. She was an active mature adult who wanted to ensure her future security and happiness somewhere she chose to be.
It worked out that Jean's daughter in Alpharetta had an unfinished basement, ripe with opportunity. When you saw the space prior to construction it was hard to imagine the oddly shaped section, under the stairs, in the back of the basement would be Jean's new home. But it worked perfectly! The apartment was built with the following considerations:
The stairs leading to the basement had the ability to be outfitted with a stair lift whenever the need arose.
All doorways and walkways were made large enough so that a wheelchair or a person in a walker could pass through easily.
The living area and kitchen would be open and adjoining and have access to  outside.
The flooring was all carefully chosen to not contain large thresholds or stumbling spots. The tile in the kitchen and bath was non-slip and the rug was a soft Berber and not a high pile.
Kitchen appliances were chosen that were easy to clean and even had the ability to "time out" and turn off.
Cabinets were designed so all of the necessities were within immediate reach, with no straining.
The kitchen and the whole house was well lit: recessed cans, under cabinet lighting, extra lighting in the closets as well as lamps.
The bathroom was designed with a tub with grab bars and a shower with a seat and hand-held spray.
Extra cabinetry was added to the bath and large closets, critical for someone downsizing.
While almost none of these items were a necessity the day Jean moved in, both she and her daughter recognized the future need. And their situation was fortunate in the fact that they had the ability to plan and design from scratch. Not everyone has this ability, most of us need to adapt spaces we're currently living in to meet these same goals – and that is none the less possible! Designing for our changing needs and changing lives is something that is worth doing before the need arrives.
Now Jean is a happy 90-year-old great-grandmother who has the opportunity to live only minutes away from her great grandson. She speaks so highly of the experience of moving into her "Alpharetta apartment" and she takes the opportunity to show it off to all of her friends who visit, most of whom leave with many ideas on how they can reorganize and redesign parts of their own home!