So far you've learned about the first two layers used in creating a super luxurious bed for your guests.  Sometimes, when I'm shopping for bedding, I get a little confused with all of the product out there.  Which is best?  Polyfill or down and feathers?  Egyptian cotton or Pima?  So I did a little research on the topic to share with you today.
3.  Pillow – Sleeping pillows not only support your head while you sleep, they also to allow your neck and spine to stay in proper alignment.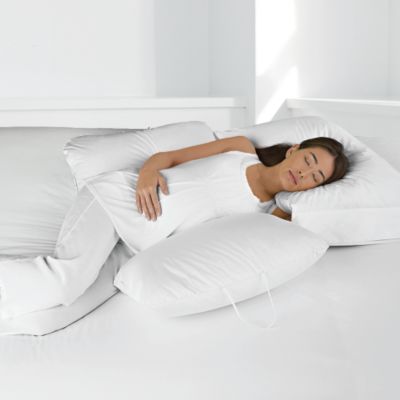 Let's begin with sizes:  Standard (20″x26″), Queen (20″x30″), King (20″x36″), and Euro (20″x20″)  I like to use a standard pillow on a twin bed, and two standards, queens, or kings on double, queen, and king beds.  But it's personal preference.  Some people prefer 3 standard pillows on a king size bed.
It's really important to select a pillow that is best for the way you sleep.  Are you a stomach sleeper?  A back sleeper?  Or a side sleeper?  Read the label on the pillow to make the right choice for you.
Down pillows- These are filled with the down of ducks or geese, and mold to the shape and thickness you like. Stomach sleepers will like this filling.  But beware if you have severe allergies, it could be a problem.  Try adding a pillow cover that zips.
Feather pillows– Back and side sleepers like this type of pillow best because it's a firmer than down.  Typically feather pillows will come as a  combination with down.  Remember that the higher percentage of feather, the firmer the pillow.
Memory foam – A hypo-allergenic material, memory foam is meant to mold to the shape of a person's neck and head to create comfortable contours. Because it is a heat sensitive material, it is easily molded.  Once the heat source is removed, the memory kicks in and the pillow is restored to it's original shape.  There are several densities available, which makes this a good pillow for side and back sleepers.
Latex pillows – Natural latex is poured into a pillow shaped mold with perforations to create this spongy pillow.  The perforations allow it to breathe, keeping moisture and heat build up at bay, and giving the sleeper a constant temperature throughout the night.  This is another pillow that is perfect for side and back sleepers.
Fiber fill or Polyfil pillows- This material, at its best, can be as soft and luxurious as down.  It's an ideal solution for someone with allergies, because some polyfil can be antimicrobial and hypo-allergenic.  Several sizes and degrees of firmness are available in this type of pillow.
4.  Sheets – Let's clear the air about all those key words on the package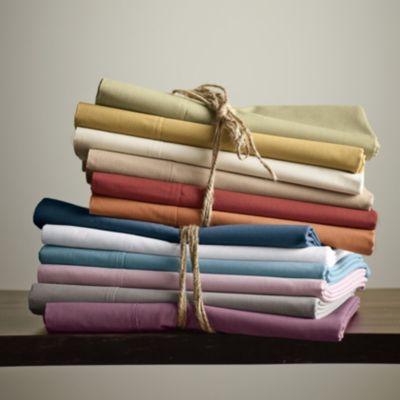 Thread count – It is simply the number of threads per inch in the weaving process. The higher the thread count, the finer the sheets.
Combed cotton – This is a cleaning process (combing) to remove impurities in the cotton.
Percale – A smooth, flat, closely woven and combed fabric that comes in 100 percent cotton or 50/50 cotton/poly blends.   Expect thread counts here to range from 180 to 200.
Pima or Suprima Cotton – A southwestern US grown cotton, with a long fiber staple (Pima) or an extra long fiber staple (Suprima).  Because it's grown in the US, the cost will be a little lower.  Expect thread counts to be at least 300 threads per inch.
Egyptian Cotton – This is cotton grown along the Nile River and is a long fiber staple, and is the same as Pima cotton.
Sateen weave – Similar to the "satin" weave first used for silk.  It's a weave that's particularly smooth and silky in feel and has become the most popular weave for sheets today.
Compare labels and similar items to get the best value.  A designer sheet that is 400 thread count pima cotton is identical to a store brand with the same characteristics.
Next we'll reveal the final 3 layers to take your guest bed to the luxury level. Read now!