Have you finally taken the big leap and started working from a home office?  Maybe you've started your own business, or the company you work for lets you work from home a few days a week.  Maybe, like the rest of us, you have too many hand held devices and charging time becomes a race for the next available outlet.  If this sounds like you, you'll be excited to learn about these hot new products.
     The first one, from Mockett and Company is brand new to the market, and brings us the latest in clean lines and technology…wireless charging made easy.  They have designed a power grid station built right into the lid.  All you need to do is rest your mobile device on the top, and voila!  Charged!  Inside you'll discover outlets and a USB port, which means that while your phone is charging, so can you laptop.  I love it!  And it comes in a satin aluminum finish with either black or white plugs.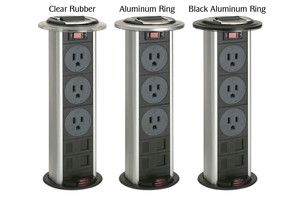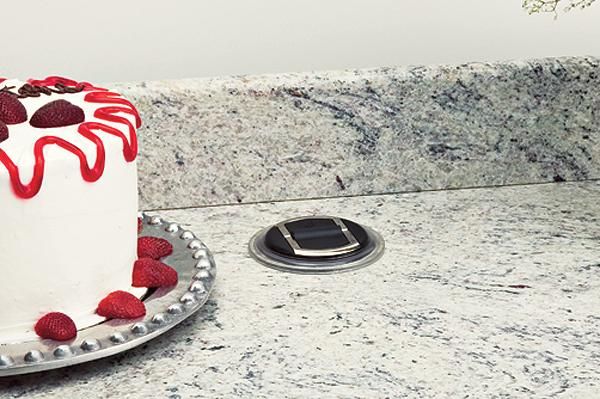 One of the first power and communication grommets to focus on the kitchen and home office is also from Mockett and Company.  It's pop-up style allows you to plug in up to 3 cords.  And when you've finished, it easily retreats back under your counter top. 
     Another product from Evoline USA works in almost the same way, but with a few added bells and whistles.  The top

is available

in black, white, or stainless so that it blends a little better with your counter top.  The tilt-up top makes it

easier

be pulled up and pushed back into place.  But the feature that really sets it apart is the tilted outlets that allow you to plug in, push down, and stay connected…all at the same time!  Imagine the possibilities for your desk, a communication center, your kitchen island or buffet area. No more outlets exposed and on view for all to see.  No unsightly outlets cut into your beautiful new cabinets. 
     This was our product of choice for the island in our new kitchen.  It blends into the countertop and is easy to use.  The only tricky part was deciding which cabinet to install the outlet in

, and to make sure it was accessible once the counters were installed.
If you love the i

dea of these products, and want more information, give me a call at (404)213-8571 and I'll be happy to help.